Parallel Voice Productions - Past Events

2005 SERIES PREMIERE
The Cathedral Church
of St. John the Divine
112th St. & Amsterdam Ave.,
New York City
Presented by Parallel Voice Productions in association with World Music Institute and The Cathedral Church of St. John the Divine .
Songs of the Spirit premiered on December 6, 2005 in New York City, with musical and spoken word performances by Odetta, Meshell Ndegeocello, Patti Smith, Lenny Kaye, Sussan Deyhim, The Klezmatics with Joshua Nelson, DJ Spooky, Craig Harris, Graham Haynes, Sekou Sundiata, and the Tibetan monks of the Drepung Loseling Monastery.
THE ARTISTS:
The 2005 premiere of Songs of the Spirit featured performances by Tehran-born Sussan Deyhim, a remarkable vocalist and performance artist whose work blends traditional Middle Eastern music with cutting edge technology and a progressive sensibility; trombonist/composer Craig Harris, whose musical adaptation of James Weldon Johnson's "God's Trombones" combines Johnson's classic text with the energy and emotion of the old-style trombone shout bands; The Klezmatics with virtuoso gospel singer Joshua Nelson, performing a genre-bending fusion of gospel, klezmer, rock, jazz, and world-beat styles; the socially and spiritually conscious Meshell Ndegeocello who constantly continues to push boundaries with her sophisticated mix of sweet, raucous, and deeply personal rock, jazz, funk, hip-hop and soul; the "Queen of American Folk Music," Odetta, who has been hailed as the "Mother Empress of Folk and Blues" (New York Times) and one of the 20th century's most influential artists; Paul D. Miller, better known under the moniker of his 'constructed persona' DJ Spooky, a conceptual artist, writer, composer and musician; Harlem-born poet Sekou Sundiata, who was featured on Bill Moyers' PBS series, "The Language of Life," and as part of Russell Simmons' Def Poetry Jam on HBO; and the Tibetan monks of the Drepung Loseling Monastery, who are renowned for their fascinating multiphonic singing in which each monk holds multiple notes simultaneously.
The 2005 season of Songs of the Spirit also included performances at the Massachusetts College of Liberal Arts, in North Adams, MA, and at the Mahaiwe Performing Arts Center, in Great Barrington, MA, featuring Odetta, the Tibetan monks of the Drepung Loseling Monastery, Sussan Deyhim, and Frank London & The Nigunim Trio.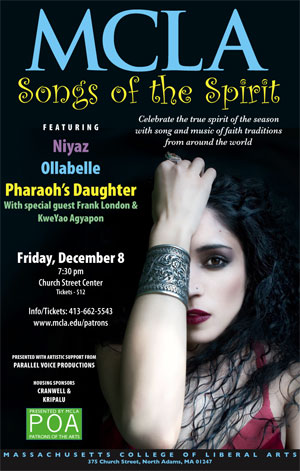 2006 SEASON
The 2006 season of Songs of the Spirit featured Ollabelle, Niyaz, and Pharaoh's Daughter with Frank London, and readings by Seth Rogovoy. Performances were presented at the Massachusetts College of Liberal Arts, in North Adams, MA, and at the Mahaiwe Performing Arts Center, in Great Barrington, MA.
THE ARTISTS:
Ollabelle's members – Singer Amy Helm, bassist Byron Isaacs, drummer Tony Leone, singer/songwriter Fiona McBain and keyboardist Glenn Patscha – came from diverse musical backgrounds and geographical locations to New York City, where they met while playing at a series of weekly gospel jam sessions on the Lower East Side. They soon formed Ollabelleand recorded a demo that was heard by legendary Producer T Bone Burnett, resulting in the release of their first album. The group's unique sound draws on a wide range of electric and acoustic influences, including gospel, blues, rock, bluegrass, and country. The debut disc won massive critical acclaim, as did tours with Diana Krall, Ryan Adams and Buddy Miller. Ollabelle also won new fans via a high-profile slot on the Burnett-organized Great High Mountain Tour, which saw Ollabelle share stages with such prestigious roots acts as Alison Krauss and Union Station, Ralph Stanley and Norman and Nancy Blake.
Known collectively as Niyaz, Vocalist Azam Ali, multi-instrumentalist Loga Ramin Torkian, and producer/remixer Carmen Rizzo have joined forces to create a globe-spanning sound that the trio calls "world music for the 21st century." All three of these musicians have built impressive individual careers. Azam's background spans three different cultures: Persian, Indian, and American. With a sound that evokes centuries of women's voices from medieval Europe to the modern Middle East, Azam has been heard in several major motion pictures including The Matrix: Revolutions. Of Azam's 2002 solo album, a Billboard reviewer raved, "It's unlikely that this year will bring a more spellbinding vocal album…" Multi-instrumentalist Loga Ramin Torkian, whose band Axiom of Choice has won much critical acclaim, is deeply involved with the music of his homeland, Iran, and is accomplished on a wide range of both modern and traditional instruments. Two-time Grammy Award nominee, Carmen Rizzo has collaborated with a diverse range of artists, including Seal, Alanis Morisette, Ryuichi Sakamoto, Khaled, Ekova, and Cirque du Soleil.
Blending a psychedelic sensibility and a pan-Mediterranean sensuality, Basya Schechter leads her band, Pharaoh's Daughter, through swirling Hasidic chants, Mizrachi and Sephardi folk-rock, and spiritual stylings filtered through percussion, flute, strings and electronica. In a review of their "Exile" album, Jazz Review wrote, "...their fusion has been nearly perfected, with all the elements of Old and New World sounds and styles refined into a nearly seamless, individual style." Of their "Out of the Reeds" CD, Seth Rogovoy wrote, "...a remarkable acoustic, world-beat fusion..." Joining Pharaoh's Daughter on the MCLA stage is Frank London on trumpet.
Frank London, trumpeter/composer, is a member of The Klezmatics, Hasidic New Wave, has performed with John Zorn, LL Cool J, Mel Torme, Lester Bowie's Brass Fantasy, LaMonte Young, They Might Be Giants, David Byrne, Jane Siberry, Ben Folds Five, Mark Ribot, Maurice El Medioni and Gal Costa, and is featured on over 100 CDs. His own recordings include Invocations (cantorial music); Frank London's Klezmer Brass Allstars: Di Shikere Kapelye and Brotherhood of Brass; Nigunim and The Zmiros Project (Jewish mystical songs, with Klezmatics vocalist Lorin Sklamberg); The Debt (film and theatre music); The Shekhina Big Band; the soundtrack to The Schvitz; the soundtrack to Pearl Gluck's The Divahn and four releases with the Hasidic New Wave. He composed music for John Sayles' The Brother from Another Planet and Men With Guns, Yvonne Rainer's Murder and Murder, the Czech-American Marionette Theater's Golem and Tamar Rogoff's Ivye Project.